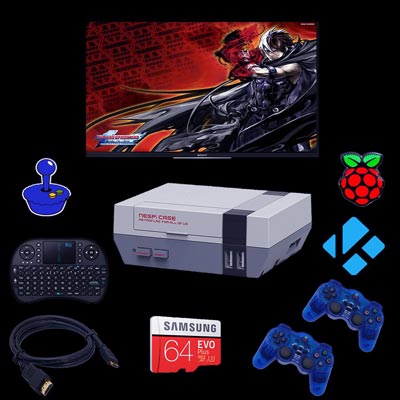 Let's take a moment to play the devil's advocate with technology. Most guys out there certainly love to play their video games along the lines of the latest releases on state of the art PC gaming systems or gaming consoles. PlayStation, X-Box One and Nintendo Switch are the dominant players in the market because they are very popular with gamers from all ages. But then there is this select group of niche gamers that just love their old school gaming systems. You've probably seen them before. These are the folks that must have every past generation console re-release, even if they come with just 20 or 30 games preloaded on them.
Getting the Games of Old to Play Now
Most classic players these days' use Raspberry hardware as well as specialized gaming software to emulate the thousands of ROMs that can be found online with any of the primary OS available for PCs. Many of them achieve the desired effect it comes with a cost: you need a lot of time and dedication to become tech-savvy enough to use this technology. Even with thousands of tutorials on YouTube explaining how to set up a Raspberry card you still some basic tech knowledge to make it work with your choice of hardware. It's hard to admit it, but some guys just don't have the patience for it.
The Big Solution to Go Old-school
This is where companies like Retro Gaming House come into play to make life easier to these old-school gamers that want to enjoy their traditional video games as they were originally conceived on their TV sets. The team behind the company has created a series of hardware bundles that are ready to use as you take them out of the box. You just need to plug them into your TV set and to a power source and switch them on and Voila! You will have all your favorite arcade classics just as you remember them on the palm of your hand. RetroGamingHouse is well aware of the needs of old timers and young enthusiast that simply love vintage games.
You might find interesting:
> PS3 Emulator for Android & iOS – PS3Mobi App
How the Magic Works with Retropie?
The company uses multiple versions of MAME and Final Burn Alpha to handle top-quality ROMs that tried and tested for functionality. As you visit their website, you will be amazed at the number of presentations offered to play with. From classic setting of six-button 2-player joysticks to individual consoles with classic d-pads offering up to 100,000 ROM's preloaded on a single SD card with games dating back as far as the Atari 2600, to thousands of gems released on NES, SNES, NEO-GEO, Genesis, N64, and the original PlayStation as well as hundreds of classic arcade games. Intrigued yet? Go and visit them on www.retrogaminghouse.com to check out their offering!