A high-end screen doesn't have anything to do with your computer performance, but it's the prime source to see everything you can achieve with it. For gamers, they are a dream come true, for programmer, designers, and planners they are an invitation to boost their productivity. The best thing about modern technology in this regard is that you no longer need to spend a small fortune since many of the best monitors you can get in 2018 are in the cheap since so many brands are trying to please the endless requests of the market. Bear in mind that when it comes to monitors, the higher resolutions deliver smooth images and put less of a strain on your eyes. Now let's review the top three options of 2018.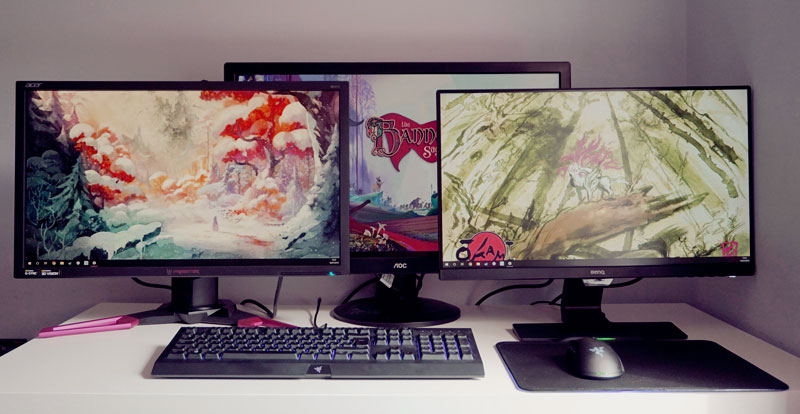 1st Option: BenQ PD3200U
This one is presented as a 32-inch flat screen with an aspect ratio of 16:9, and a resolution of 3,840 x 2,160. It can display a brightness level of 350 cd/m2, and it has a response time of 4ms. The viewing angle is measured at a perfect 178/178, and the contrast ratio is of 1,000:1. The monitors have the color support of 100% sRGB, and it weighs 8.5kg. With computers being capable of handling the encoding technologies that can display higher resolutions, 4K monitors are in high demand more than ever. BenQ has stepped up the game by releasing this Ultra HD display intended for designers. While it was not the intent of the company, the model has become very popular among gamers since the overall design is easy to display on any table.
2nd Option: Acer Predator X34
This excellent screen is presented measuring 34-inch with an aspect ratio of 21:9 and a resolution of 3440 x 1440. The brightness can reach 300 cd/m2, and it has a response time 4ms G2G. The viewing angle is set at 178/178 with a contrast ratio of 100 million: 1. The color support is 100% SRGB, and it weighs 9.9kg. The 16:9 aspect ratio will feel old and outdated with this one in the house. This screen has a cinematic display of 21:9. It will fall short with streaming services, but you don't need to worry too much about it, most of them will eventually catch up to your tech. The Acer Predator X34 looks and feels like a futurist device lined with attractive aluminum bezel and a polygonal stand that resembles the way a bird stands.
3rd Option: LG 34UC79G-B
Our final choice is from South Korean giants LG. This monitor has a 34-inch screen size with an aspect ratio of 21:9 and a resolution of 2,560 x 1,080 pixels. The brightness is measured at 250 cd/m2 and the response time is of 10.3ms. The viewing angle is perfectly fit at 178/178, and the contrast ratio is paired at 1000:1. The screen has the color support of 92.1% sRGB and weighs 8.6kg. This screen is a great way to run games on weak GPUs if you're looking to get some ultra-wide displays without spending money you don't have. The LG 34UC79G-B comes equipped with AMD FreeSync for screen tear elimination and a 21:9 aspect ratio that work best for video games and cinema that need a crisp image.